0
Radio8Ball with Grant-Lee Phillips & Mary Lynn Rajskub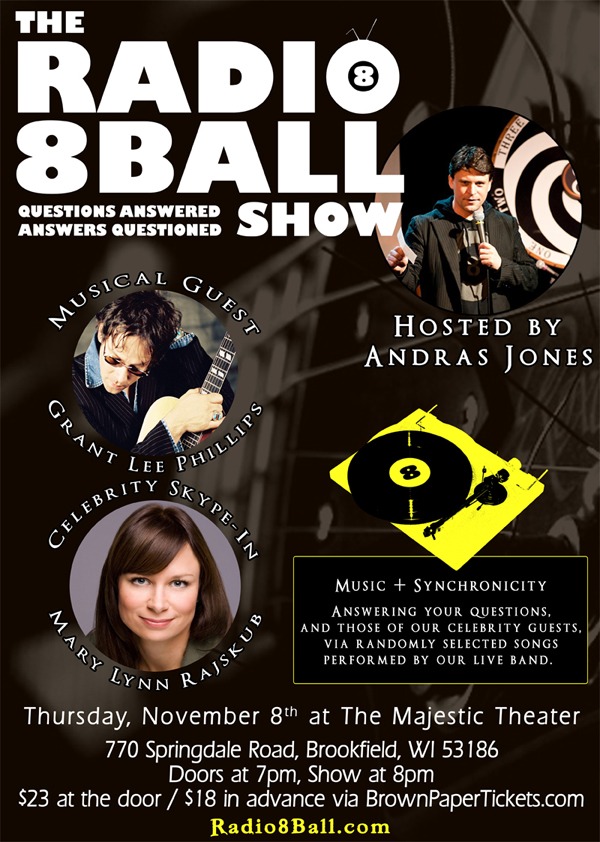 THURSDAY, NOVEMBER 8TH - ANDRAS JONES BRINGS RADIO8BALL TO THE MAJESTIC WITH GRANT LEE PHILLIPS AND MARY LYNN RAJSKUB
MARCUS MAJESTIC CINEMA: 770 N Springdale Road, Brookfield, WI 53186
Tickets on sale at Brownpapertickets.com
"Radio8Ball provides a media-saturated generation with a bridge between pop culture and some sort of communion with whatever you want to call it: the divine, God, non-local realityThe Pop Oracle." -Seattle Times
Radio8Ball is a night of live musical divination hosted by actor/author/musician ANDRAS JONES. Part rock and roll cabaret, part mystic mind expansion, Radio8Ball is the show where questions are put to "The Pop Oracle" and answered by picking songs at random, then interpreting the randomly chosen songs as the answer to the questions; like shaking a musical 8ball, for a night of what The Boston Globe called "the ultimate pop psychology experience; emphasis on pop."
The songs are performed by our featured musical guest
GRANT-LEE PHILLIPS is the mastermind behind the band Grant Lee Buffalo. GLB were critic's darlings of the 1990's who attracted the admiration of indie heroes like Robyn Hitchcock & Michael Stipe. Grant Lee first came to the attention of Radio8Ball as part of the revolving musical crew at LA's Café Largo where he was one of the resident madfolk who made history out of that room. Along with artists like Jon Brion, Elliott Smith, Aimee Mann, Fiona Apple, Patton Oswalt, Sarah Silverman, members of The Attraction, The Heartbreakers & The Rutles, and far too many more to mention, Grant kept the joint rocking with the kind of good humored caterwauling that once flourished between the cracks and will again. He's a puckish cat's cat who just so happens to have dabbled in the divinatory arts himself, with his own 2000 release, Ladies' Love Oracle. This will be Grant's first appearance on The Radio8Ball Show.
Each R8B show features 6 questions from the audience, one from the host, and one from a Celebrity Guest who Skypes in to the show from Hollywood or New York or wherever else they happen to be living and/or working. Past guests have included: John C. Reilly, Patricia Arquette, Seth Green, Weird Al Yankovic, Nina Hartley, Rae Dawn Chong, Daniel Pinchbeck and many more
MARY LYNN RAJSKUB is another Café Largo alum who first came to national attention as a member of the cast of the cult cable hit Mr. Show featuring Bob Odenkirk and David Cross. She has gone on to play featured roles in Punch Drunk Love, Julie & Julia and the hit TV series 24. Mary Lynn has also played numerous memorable supporting roles in films and shows from Little Miss Sunshine to It's Always Sunny In Philadelphia.
The pairing of Grant-Lee Phillips and Mary Lynn Rajskub, with Andras Jones and The Radio8Ball Show at the Majestic promises to be an unforgettable night, so get your tickets early, and start thinking of your question for The Pop Oracle.
"For major shivers or just a fresh way of looking at things "R8B" is a uniquely amusing reminder that humanity has a collective fate." - The Los Angeles Times
Tickets on sale at Brownpapertickets.com